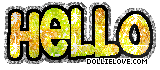 I kid you not! I've had breakfast out there, lunch out there and heading out there for tea! It's not often that we see so much sun in this neck of the woods!
We've been busy today sorting out for our BBQ on Saturday. We have a big garden and hubs has the run of most of it. I just do the prettifying and dead heading :D We were sat minding our own business at lunch when a dragonfly decided to take a tour! He stayed around for quite a while buzzing here and there.
Hubs has cut the grass. Isn't it amazing how different a garden can look with a grass cut?!
Here are some blooms from the garden
I finished my ATC. I'm quite pleased with it but I do think I need to be more arty with the next one. The theme is Oriental and I've used a backing paper with kimono and fans. I have no idea what the chinese peel offs mean, but I hope it's polite ;)